Specifications
Input impedance: > 14 T-Ohms ( > 1014 Ohm)

Input voltage: +/-2.5V

Output voltage: VG +/-2.5V

PCB material: FR4
Output Voltage: Float
(VG)
Max power consumption: 0.1W
Storage temperature: 40 - 70 [F]
Operating temperature: 32 - 140 [F] (0 to 60°C) @ 95% RH
Power source: 9V battery or EID's 9V voltage simulator
Power indicator: LED Red
Manufactured: 100% in USA
---
Applications:
Pharmaceuticals

Waste water treatment

Drinking water

Heavy metals

Flat or low sample volumes

Dairy; Cheese, Milk etc.

Pool

Food and Beverage level readings

Oil refineries

Titration

Pulp & Paper

Mining

Power Generation

Industrial and Municipal Water Treatment

Industrial and Municipal Waste Treatment and Neutralization

Plating

Circuit Board Manufacturing

Chemical Processing
---
Mounting: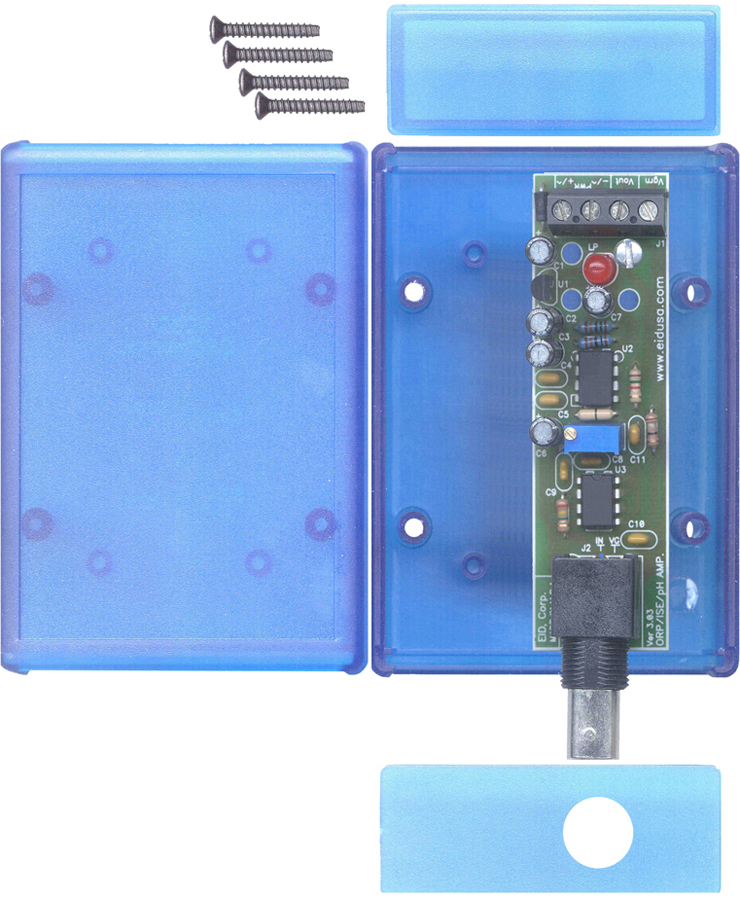 Shown above (model A) mounted in plastic enclosure EID-1593 series enclosure (optional)

Shown above encapsulated in plastic translucent blue enclosure (EID-1593 series enclosure) with din-rail-clip

Shown above with 4 wires enclosed with DIN-Rail mount in black enclosure (sold separately).
Note:
Plastic enclosure, wires and Din-Rail-clip are sold separately (for demonstration only).
---
pH, ORP, Temperature connection in a typical Industrial Installation

Shown above (B/W picture), 35mm DIN-Rail's mounting of Five sets of pH Temperature and ORP installation, a total of 15 electrodes. Each individual set is isolated via its own isolated dual output coils transformer. Where, all the transducers output connected ether to PLC or Data Acquisition.
Note:
This DIN-Rail "plug and play EID's transducers and interface boards technology," are typically mounted in a water proof NEMA enclosure. This allows the field user to change electrode or transducer while removing the power only from one or transducer or few transducers a the time. Additionally it allows one to set a system where hundred and thousand of channels of electro chemistry transducers are requires such a water treatments facilities etc.
So if you want provisional linear noise free multiple channels measurements of electrodes in a industrial environment give us a call.
PROUDLY DESIGNED, FABRICATED and MADE IN THE U.S.A., all of our transducers and interface board are build with high quality, high grade components and since we are an OEM manufacturing company, as well as R&D facility, we can print your logo on the enclosures and PCBs. We customize the interface boards and transducers to fit your requirements and needs. Just drop us a line at: sales@eidusa.com or call us directly at (704) 366-HELP (4357).
---