Isolation AC Power Supply Type Transformers P.C. board mounted with Terminal Blocks.
The board utilized EID's P# EID-162 & 164 Low voltage P.C. board mount low profile transformers. This dual/single secondary outputs isolated AC Power supply designed to provide VAC isolated outputs, for Powering peripheral devices such as industrial interface boards, transducers and transmitters. The unique OEM board is available with 110VAC or 220VAC primaries.
Key Features:
20 output voltages to choose from (5 - 120VAC R.M.S.)

Input/Output via Terminal Blocks

Six VA size models available from - 1.1 to 36VA

Both series operate on 50/60 Hz current

Low profile, split bobbin design.

Dual winding secondary outputs, non-concentrically wound.

Low primary to secondary coupling - no electrostatic shield required.

Choice of economical single primary 115V (EID-164 series) or universal dual primary 115/230V (EID-162 series) - either model 50/60 Hz operation.

One year warranty

High insulation - Hipot of 2,500V RMS.

Class B insulation - 130 degrees C.

No mounting hardware required on 1.1 and 2.4 VA sizes, two hole mounting on 6, 12 and 20VA sizes, four
hole mounting on 36VA size (mounting screws not provided). P.C. board mount with industry standard pin spacing.

CSA certified (# LR3902) and UL recognized (# E50394).
---
Pictures Models P# EID-16NNNYXXXX-IPSB
Where; N = 162 or 164 and Y = D or E, XXXX = Secondary Voltage or PCBA for PCB only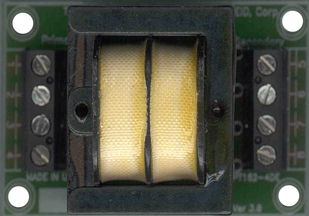 (D)
(E)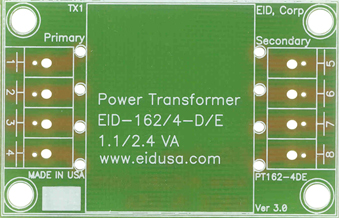 (PCB only P# EID-16NNNYPCBA-IPSB)
---
Pictures Models P# EID-16NNNYXXXX-IPSB
Where; N = 162 or 164 and Y = F, G, H or J, XXXX = Secondary Voltage or PCBB for PCB only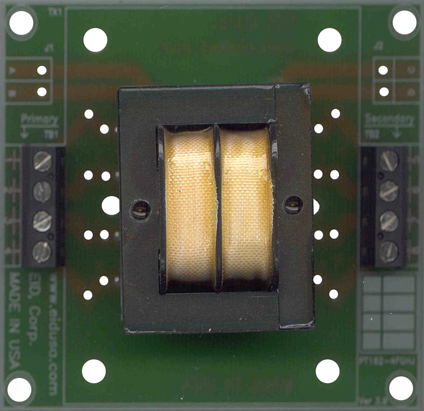 (F)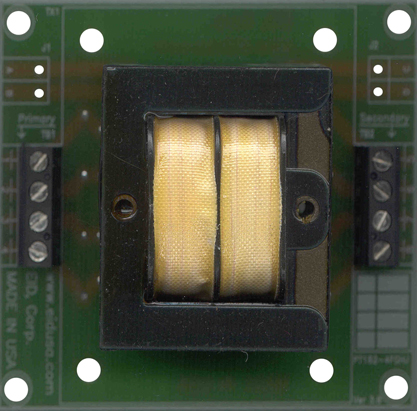 (G)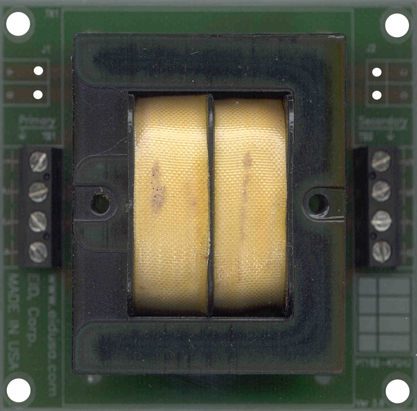 (H)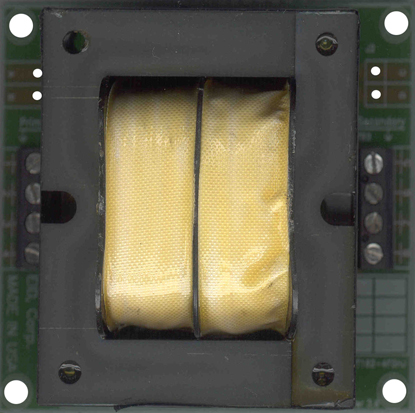 (J)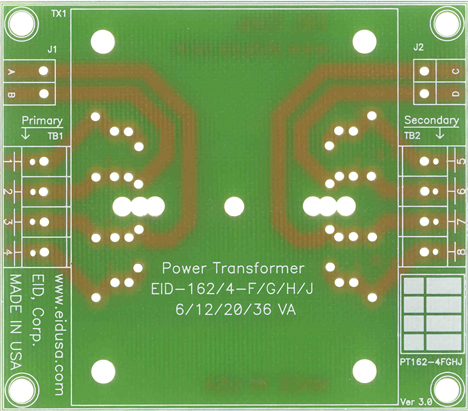 (PCB only P# EID-16NNNYPCBB-IPSB)
---
EID-162/4 Power Transformer table:
P#
Single Primary
115V

P#.
Dual Primary
115/230V

Size
VA

Secondary (RMS)

Series

Parallel

EID-164D10

EID-162D10

1.1

10V C.T. @ .11A

5V @ .22A

EID-164E10

EID-162E10

2.4

10V C.T. @ .25A

5V @ .5A

EID-164F10

EID-162F10

6

10V C.T. @ .6A

5V @ 1.2A

EID-164G10

EID-162G10

12

10V C.T. @ 1.2A

5V @ 2.4A

EID-164H10

EID-162H10

20

10V C.T. @ 2A

5V @ 4.0A

EID-164J10

EID-162J10

36

10V C.T. @ 3.6A

5V @ 7.2A

EID-164D12

EID-162D12

1.1

12.6V C.T. @ .09A

6.3V @ .18A

EID-164E12

EID-162E12

2.4

12.6V C.T. @ .2A

6.3V @ .4A

EID-164F12

EID-162F12

6

12.6V C.T. @ .5A

6.3V @ 1.0A

EID-164G12

EID-162G12

12

12.6V C.T. @ 1.0A

6.3V @ 2.0A

EID-164H12

EID-162H12

20

12.6V C.T. @ 1.6A

6.3V @ 3.2A

EID-164J12

EID-162J12

36

12.6V C.T. @ 2.85A

6.3V @ 5.7A

EID-164D16

EID-162D16

1.1

16V C.T. @ .07A

8V @ .14A

EID-164E16

EID-162E16

2.4

16V C.T. @ .15A

8V @ .3A

EID-164F16

EID-162F16

6

16V C.T. @ .4A

8V @ .8A

EID-164G16

EID-162G16

12

16V C.T. @ .8A

8V @ 1.6A

EID-164H16

EID-162H16

20

16V C.T. @ 1.25A

8V @ 2.5A

EID-164J16

EID-162J16

36

16V C.T. @ 2.25A

8V @ 4.5A

EID-164D20

EID-162D20

1.1

20V C.T. @ .055A

10V @ .11A

EID-164E20

EID-162E20

2.4

20V C.T. @ .12A

10V @ .24A

EID-164F20

EID-162F20

6

20V C.T. @ .3A

10V @ .6A

EID-164G20

EID-162G20

12

20V C.T. @ .6A

10V @ 1.2A

EID-164H20

EID-162H20

20

20V C.T. @ 1A

10V @ 2.0A

EID-164J20

EID-162J20

36

20V C.T. @ 1.8A

10V @ 3.6A

EID-164D24

EID-162D24

1.1

24V C.T. @ .045A

12V @ .09A

EID-164E24

EID-162E24

2.4

24V C.T. @ .1A

12V @ .2A

EID-164F24

EID-162F24

6

24V C.T. @ .25A

12V @ .5A

EID-164G24

EID-162G24

12

24V C.T. @ .5A

12V @ 1.0A

EID-164H24

EID-162H24

20

24V C.T. @ .8A

12V @ 1.6A

EID-164J24

EID-162J24

36

24V C.T. @ 1.5A

12V @ 3.0A

EID-164D28

EID-162D28

1.1

28V C.T. @ .04A

14V @ .08A

EID-164E28

EID-162E28

2.4

28V C.T. @ .085A

14V @ .17A

EID-164F28

EID-162F28

6

28V C.T. @ .2A

14V @ .4A

EID-164G28

EID-162G28

12

28V C.T. @ .42A

14V @ .84A

EID-164H28

EID-162H28

20

28V C.T. @ .7A

14V @ 1.4A

EID-164J28

EID-162J28

36

28V C.T. @ 1.3A

14V @ 2.6A

EID-164D36

EID-162D36

1.1

36V C.T. @ .03A

18V @ .06A

EID-164E36

EID-162E36

2.4

36V C.T. @ .065A

18V @ .13A

EID-164F36

EID-162F36

6

36V C.T. @ .17A

18V @ .34A

EID-164G36

EID-162G36

12

36V C.T. @ .35A

18V @ . 7A

EID-164H36

EID-162H36

20

36V C.T. @ .55A

18V @ 1.1A

EID-164J36

EID-162J36

36

36V C.T. @ 1A

18V @ 2.0A

EID-164D48

EID-162D48

1.1

48V C.T. @ .023A

24V @ .046A

EID-164E48

EID-162E48

2.4

48V C.T. @ .05A

24V @ .1A

EID-164F48

EID-162F48

6

48V C.T. @ .125A

24V @ .25A

EID-164G48

EID-162G48

12

48V C.T. @ .25A

24V @ .5A

EID-164H48

EID-162H48

20

48V C.T. @ .4A

24V @ .8A

EID-164J48

EID-162J48

36

48V C.T. @ .75A

24V @ 1.5A

EID-164D56

EID-162D56

1.1

56V C.T. @ .02A

28V @ .04A

EID-164E56

EID-162E56

2.4

56V C.T. @ .045A

28V @ .09A

EID-164F56

EID-162F56

6

56V C.T. @ .11A

28V @ .22A

EID-164G56

EID-162G56

12

56V C.T. @ .22A

28V @ .44A

EID-164H56

EID-162H56

20

56V C.T. @ .35A

28V @ .7A

EID-164J56

EID-162J56

36

56V C.T. @ .65A

28V @ 1.3A

EID-164D120

EID-162D120

1.1

120V C.T. @ .01A

60V @ .02A

EID-164E120

EID-162E120

2.4

120V C.T. @ .02A

60V @ .04A

EID-164F120

EID-162F120

6

120V C.T. @ .05A

60V @ .1A

EID-164G120

EID-162G120

12

120V C.T. @ .1A

60V @ .2A

EID-164H120

EID-162H120

20

120V C.T. @ .16A

60V @ .32A

EID-164J120

EID-162J120

36

120V C.T. @ .3A

60V @ .6A
Mechanical & Schematic Connection Data:
Single Primary - EID-164 Series

Dual Primary - EID-162 Series

Connection Information EID-162/164 Series Transformers

Note: Pins 2 & 3 are omitted on the EID-164 series (single primary)
| | |
| --- | --- |
| Single Primary EID-164 Series | Dual Primary EID-162 Series |
Primary Connections EID-162 Series Transformers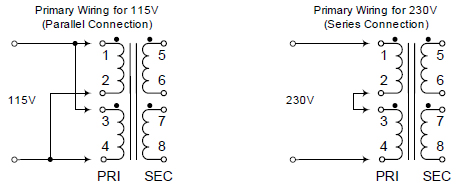 Primary Connections EID-164 Series Transformers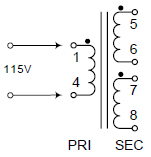 Secondary Connections - both EID-162 & EID-164 Series Transformers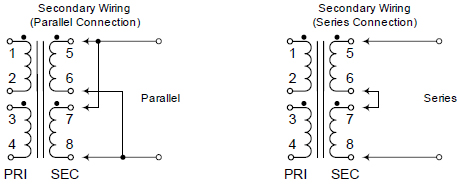 Mechanical both EID-162 & EID-164 Series Transformers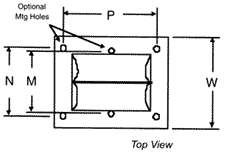 (VA)
Size

Dimensions (Inches)

Mtg.
Screw

lbs.

L

W

H

A

B

C

M

N

P