pH/ORP/ISE electrode reading and logging via EID's universal serial bus (EUSB) is an educational electronics kit. It allows you to connect your personal computer (PC) universal serial port (USB) to the kit on one side and pH electrode on the other side. Together with the our free (AS-IS) demo software, you will be able to read and log to file pH measurements. Additionally, you will be able to set the log intervals and log the information to file. Our sophisticated software logging Dynamic Data Exchange (DDE) mechanism allows you to open the logged file with other program, such as spreadsheet (MS-Excel etc.), at the same time. Therefore, you will be able to easily share the file, view it from anywhere on the web, and print report or graph from your familiar existing software packages.
The on board 12-bits ADC component has a built-in reference voltage and internal clock. The device controlled via 2 wires, Clock and Data (I2C protocol).
The kit is based on Cypress integrated circuit (IC), the CY7C63001.
Note: The CY7C63001 IC is Universal Serial Bus (USB) RISC type Micro-controller. It conforms to USB 1.5 Mbps specification, version 1.1. See USB specifications at www.usb.org for more details, or click here to download the the CY7C63001 chip data-sheet.
No need for external Power supply! The board is powered directly from your PC.
---
Kit mounting
This kit includes on board pre-installed free EUSB firmware!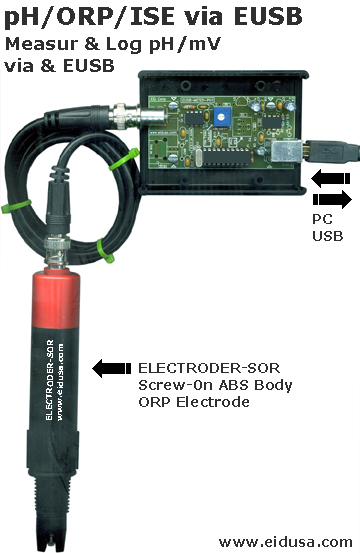 Shown above mounted in plastic enclosure (EID-1593 series).
This unique kit design provides you with the ability to connect your electrode easily via front mounted BNC (1). You will be able to monitor mV of ORP/ISE or pH directly from the PC.
Please note: EUSB wire (USB cable), plastic enclosure electrode BNC cable are sold separately (for demonstration only).
---
Kit Software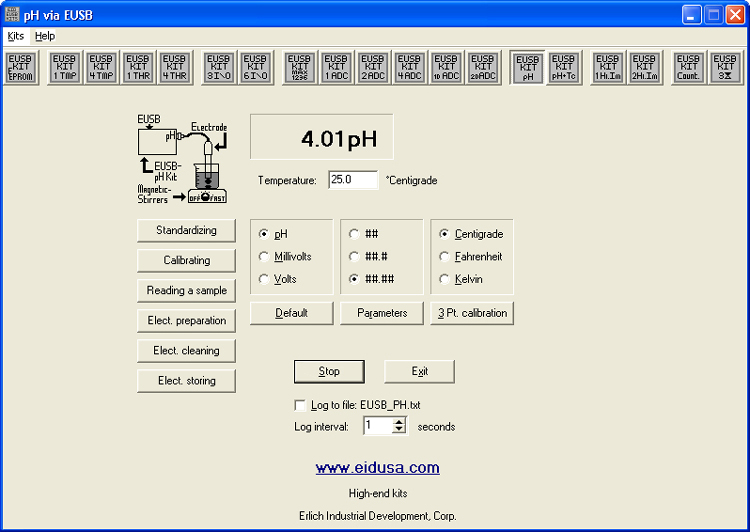 pH Kit main screen shot (shown above)
Yep, Basic FREE SOFTWARE.
Simple to use. Control EUSB-kits directly from your personal computer (PC).
Our philosophy is that "NO KID or SCIENTIST WILL BE LEFT BEHIND!"
Click here to download the free demo software code for Win98/98SE/ME/WinNT/2000/XP operating system. (Win98/SE/ME,2000, NT or XP are trademarks of Microsoft Corp.)
Please be advised, the demo software is provided for free, on as-is basis, without any warranties. Run or download it on your own risk!
All you need to do is plug-in the kit via EUSB cable to your PC, run the free demo software, and viola, you can log and read pH values.
---
Kit Includes
---
pH electrode options.
Our pH electrodes are a hand crafted, precision analytical device. Carefully follow the step by step (main screen instruction buttons) directions, so as to obtain the optimum performance and ensure the longest electrode life.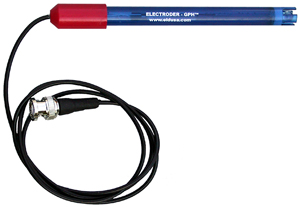 ---
Basic Required equipment and solutions:
1. EUSB-pH meter (a temperature compensator is recommended for optimum pH measurement accuracy)
2. pH Buffer 4.01
3. pH Buffer 7.00
4. pH Buffer 10.01 (This additional buffer is recommended for the highest degree of accuracy utilizing three point calibration)
5. Reference filling solution (See list for particular pH electrode type)
6. Wash bottle filled with distilled or de-ionized water
7. Laboratory magnetic stirrer and magnetic stir protected magnetic bars
8. Lab lint free wipes
9. Clean beakers
---

---