Welded - Sloped Consoles (EID-1564 Series)
Features:

Heavy duty, 14 gauge steel frame - welded console frame...

Standard 19" panel width (22.56" overall)...

Choice of two depths 24.5", 31.5" usable depth...

Unit is shipped as welded frame with 4 upper black, combination rails, 4 lower black combination rails and 4 levelling feet...

Save time, link here (RS series) to our assembled "Rapid Rack" version, complete with our most popular accessories...

Finished in powder paint.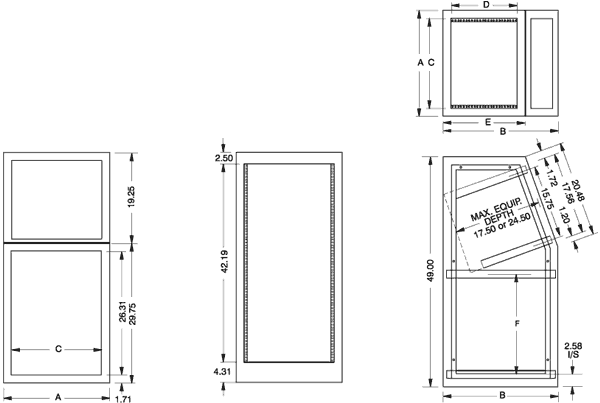 Part Number

1-99

Color

Overall Dimensions

A

B

C

F

EID-1564A2BK1
EID-1564A2CG1

Black
Gray/Beige

Textured
Textured

19.06

EID-1564B2BK1
EID-1564B2CG1

Black
Gray/Beige

Textured
Textured

22.56

31.5

19.06

19.56

Accessories:
Casters (Part Number 1425P)
Supplied as a set of 4...

Manufacturers specified 400# capacity (per set)...

Twin nylon swivel wheels with zinc axels & hoods...

Wheel dia. 2.37" (final mounting height of 2.75"...

5/16"-18 threaded stem mounts into existing holes in base of rack.

General Accessory
Extra Panel Rails

Tops solid, vented & Raised - note: existing solid top must be removed

Fan Tops 4" or 10" Fans - note: existing solid top must be removed

Doors solid, louvered & plexi

Aluminum rack panels

Steel rack panels

Formed steel rack panels

Ventilated & Access Panels Louvers, slots, baffles etc.

Doors & Chassis - Panel Mount

Cable Organizing

Shelves - Panel Mount

Shelves & Slides - Dual Vertical Rail Mount

Keyboard Shelves & Drawers

Rack mount power bars

Cooling Accessories

Vertical rack mount power bars

Blowers

Fan Trays

Mounting (Hardware)
Notes: