AMPER – CNDX conductivity amplifier interface. CELL K=1 with 10K@25C thermistor interface board, with built- in temperature compensation.
The AMPER-CNDX board is designed to perform conductivity measurement to voltage conversion. If used properly, it will eliminate the need for expensive board or conductivity meter, which would otherwise be needed to carry out the same tasks.
The AMPER-CNDX is easy to install, setup and operate. If you want to do professional remote conductivity measurement related functions, The AMPER-CNDX offers the features you need. Mounted easily via four 0.125" mounting holes.
Simply connect the board to 9VDC or 9V battery connect your conductivity cell to the input and our board will convert it to voltage. ie. for input equal to 1413 uS/cm the output voltage is 1413 mV.
The output can be connected to DVM (Digital Volt Meter) or ADC (Analog to Digital Converter)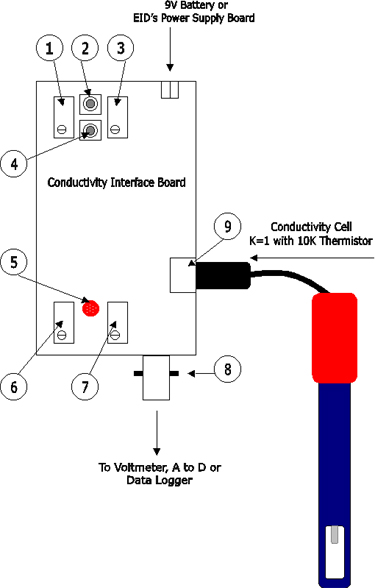 On the right picture of our conductivity interface enclosure with wall mounting holes (fit any US industrial standard outlet). This optional configuration includes the 9V power simulator as well as the conductivity interface board.
* For our big selection of conductivity cells click hear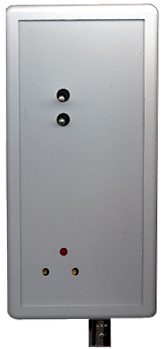 Shown above with three positions power switch; momentary-on, off and on.
1. 0-200 uS/cm fine adjustment
2. range select:
0-200 uS/cm
0-2000 uS/cm
0-7 mS/cm
3. 0-2000 uS/cm fine adjustment
4. Multi-positions power switch
5. LED power indicator
6. Zero adjustment
7. Calibration adjusment
8. Output via BNC connector
9. Input via mini-DIN6 connector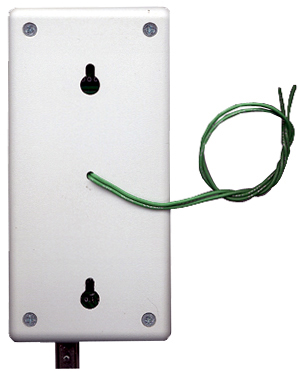 AMPER-CNDX Features
Built-in power LED indicator.

Zero output multi-turn trimmer adjustment.

Calibration multi-turn trimmer adjustment.

0-200 uS/cm multi-turn trimmer adjustment.

0-7 mS/cm multi-turn trimmer adjustment.

Multi positions power switch (shipped standard push button power switch)

Power via 9V DC or 9V industrial standard battery.

Converts uS/cm or mS/cm to Voltage.

Built in temperature compensation

Accommodate any EID conductivity cell K=1 with 10K thermistor.

Can be customized to accommodate your requirement.

Industrial Standard output, ideal for remote sensing applications.

Linear voltage output.

Built in oscillator (cell driver)
On board multi-turn trimmers facilitates precise calibration of output voltage
Specifications
Input Rated to 0-10mS/cm

Output Voltage 0 – 7V standard, calibrated for 1413mV with 1413 uS/cm input @ 25C

PCB material FR4

Input Filter L.P.F. 60Hz

Max power consumption 0.25W

Temp. Compensation:

set for 10K ohms thermistor

Storage temperature 40 - 70 [F]

Operating temperature 32 - 140 [F] (0 to 60°C) @ 95% RH

Low board DC voltage 9 [V]

Power source 9VDC +/-5%, 50/60Hz, 0.6VA

or 9VDC battery

Power indicator LED Red

Adjustment Via trimmers

Mounting Four 0.125" holes

Manufacture 100% in USA