METER – CND2000 OEM Conductivity meter with built- in temperature compensation.
The METER-CND2000 board is designed to perform conductivity measurement up to 2000 uS/cm. If used properly, it will eliminate the need for expensive conductivity meter, which would otherwise be needed to carry out the same tasks.
The METER-CND2000 is easy to install, setup and operate. If you want to do professional water conductivity measurement related functions, The METER-CND2000 offers the features you need. Wall mounted easily via two mounting holes.
Simply connect the the meter to 11-18VDC or VAC, connect your conductivity cell to the input and the meter will display your conductivity units.
Shown on the right with three positions power switch; momentary, off and on.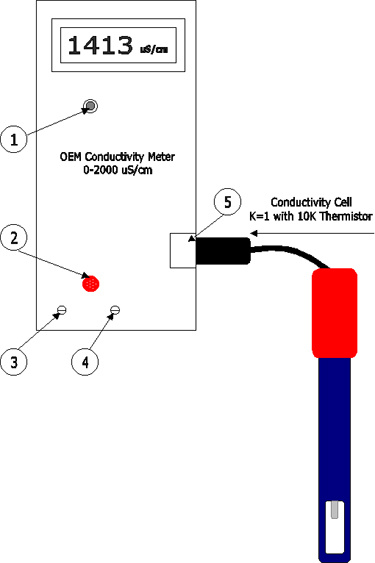 On the right picture of METER-CND2000 back side, with wall mounting holes (fit any US industrial standard outlet).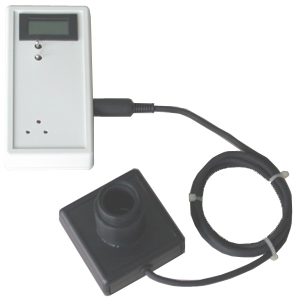 * For our big selection of conductivity cells click hear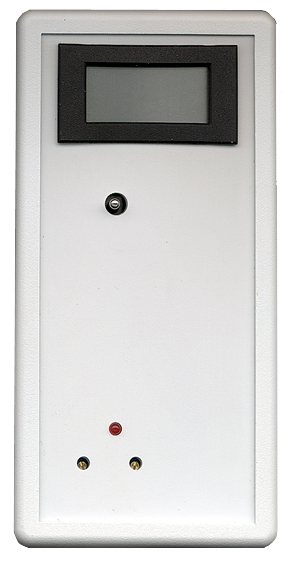 1. 0-200 uS/cm fine adjustment
2. range select:
0-200 uS/cm
0-2000 uS/cm
0-7 mS/cm
3. 0-2000 uS/cm fine adjustment
4. Multi-positions power switch
5. LED power indicator
6. Zero adjustment
7. Calibration adjustment
8. Output via BNC connector
9. Input via mini-DIN6 connector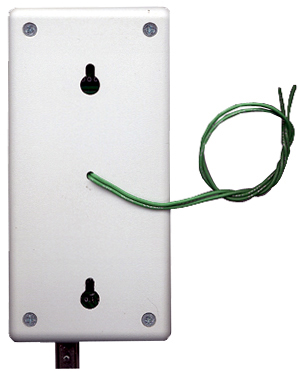 On the left picture of the METER-CN2000 meter with conductivity cup (CUPER-CC2)