This Do It Yourselfer (DIY) kit/board is very simple to connect and save you great deal of money in compare with similar devices sold on the market.
The INJECTER-PS48 is the only PoE injector you will ever need. this single port CAT5 or CAT5E Injector is a commercial grade passive power over Ethernet unit that provides DC power for remote PoE equipped. It is compatible with many AP's and other equipment supporting the IEEE standard PoE pin-out. Pin 4 together with pin 5 as a +VDC positive power, and pin 7 together with pin 8 -VDC negative power.
Simply connect your Ethernet source (connector) to the RJ45 jack marked Input, connect the power source to the terminal block. Place Cat5/E cable from the RJ45 marked Output to your remote equipment. At the remote location tap (strip) the power from the cable, regulate the power via any one of our power supply regulators kits or boards that match your equipment requirements.
The INJECTER-PS48 kit design as a high speed Ethernet power injector.
The inject power can be any DC voltage up to 48VDC. Remember due to power lost over distance (resistance of the wires), the shorter the distance the lower injector power is require to power your remote APs.
Finally it is a good practice to connect the negative power supply to the building ground to prevent damages during lightning.
---
OEM
The OEM TAPER-VX (X=your specified voltage AC or DC) custom board is provided heat-think to remove access heat on the remote applications. (see below sample configuration).


Above picture is our OEM board with build-in power regulator. The board, can be mounted in on of our plastic enclosure of your choosing.
The above board configuration is design to filter and regulate 12V to 24V DC input, to stable output of 5V DC.
For our 110V or 220V to 12VAC or 16VAC or 24VAC Power down transformer (Class 2 Type Transformers EID-BP series) click Here
---
Mounting Option
Simply snap the Din-Rail mounded enclosure into your NEMA 4 box (enclosure) for watertight applications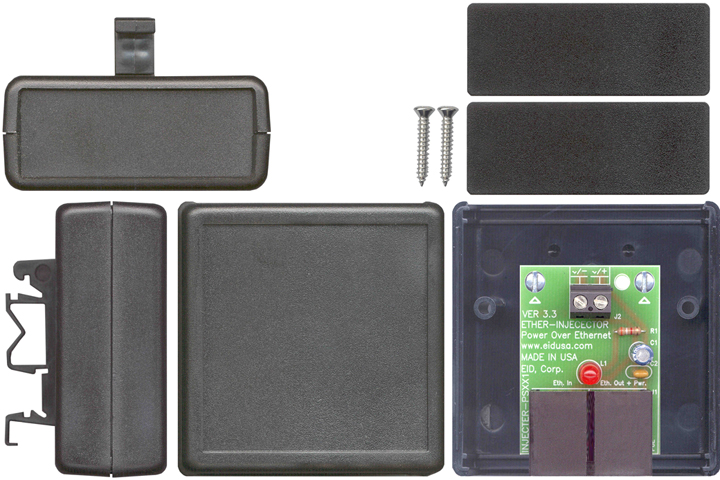 The board POE Injector shown above mounted in EID-1593KBK black ABS plastic instrument enclosure with Din-Rail mounting options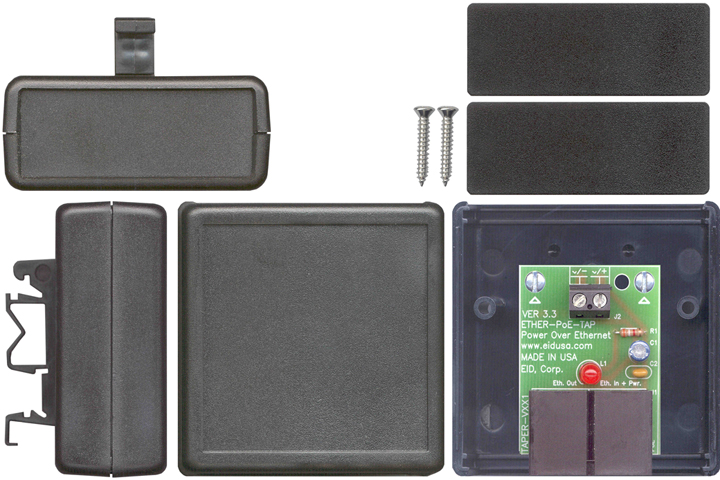 The board POE Remote Taper shown above mounted in EID-1593KBK black ABS plastic instrument enclosure with Din-Rail mounting options
Plastic enclosure and Din-Rail-clip are sold separately (for demonstration only).
---