OEM, Industrial Quad TRIAC Power Solid State Relay (SSR) & Potentiometers/Voltage Control Interface Board Module is an Original Manufacturing Engineering (OEM) industrial and commercial rated high performance, high efficiency board that utilizes potentiometers (POT) or direct low voltage to control and drive both, Resistive and Inductive load by controlling individual phase angle synchronizing to main 120V/60Hz power zero crossing.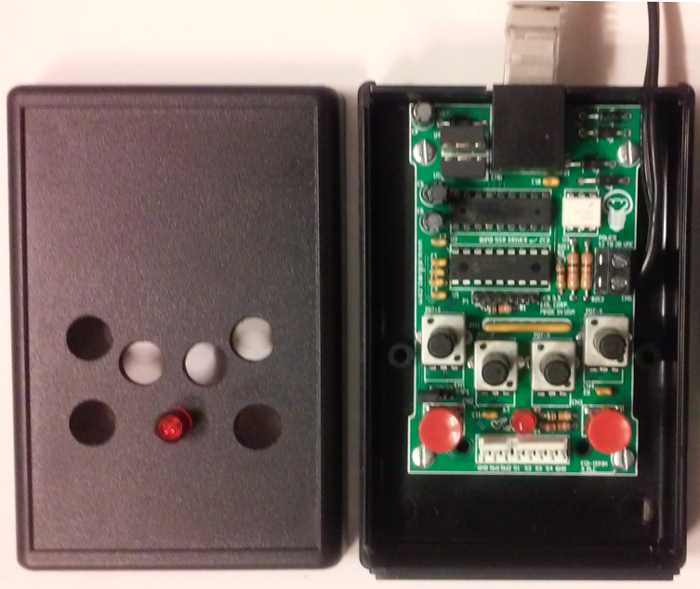 Shown above Basic OEM Din Rail module: Adjustments via quad turn potentiometers (POT) and with PLC-Communication-port and two push-button switches with its cover open on the left.
In order to reduce and or eliminates Radio Frequencies Interferences (RFI) when used with both conductive and resistive loads. The quad AC phase controller driver utilizing Optical Isolated Zero Crossing Detection circuit that synchronizes the outputs pulses of all 4 channels automatically to the zero voltage point of the ac cycle. The module detects the beginning of a each of the AC half wave by detecting the voltage zero crossing and "on the fly's" it calculate the phase angle time (phase delay) and trigger the each of the channels of the Quad Power Triac board.
The board also contains indication LED for Power On (PWR ON) and Microcontroller Self Testing (MST). The LED will blink "like HEART BEAT" once every second, indicating all of the board functions are running and powered correctly.
The Quad SSR Driver (4 Triacs controls) are used in a wide variety of applications such as pumps, vacuum cleaners, blenders, mixers, fans, lamp dimmers, and other small tools and appliances where variable uni-directional speed control is desired.
They are ideal for universal motors, DC brush motors, AC induction (PSC) motors, shaded pole motors and resistive loads.
Typical Applications:
Up to 4 phase controlled fluid pumps

Control speed of 4 fans

Control 4 resistive load heating

Control On/Off and dimming of small appliances

Control 4 lamps lighting dimming

Control Triac and Phase Cut with ZCD

Remote PLC control 4 individual phase angle via 0-10V or 4-20mA signals

General Purpose QUAD TRIACs Control with Zero Crossing and Sunburst

4 Universal Dimming Centralized Lighting Control

Quad SSR VAC-Phase-Angle Driver w/ ZCD Module

X-Mas lights

Pool Lighting System

Landscape Lighting System
Shown above adjustments via quad turn potentiometers (POT) right and with PLC-Communication-port and two push-button switches (middle picture) with its cover on the left.
The board offers the features needed for professional setting architectural lighting on/off/dimming/RGBW, ceiling fan speed control etc, as a direct function of potentiometer movement or remote voltage i.e. PWM,0-5VDC, 0-10VDC or current 4-20mA.
Furthermore, the Quad SSR system provides 4 channels of technologically advanced universal dimming for LED, incandescent, magnetic low-voltage, electronic low-voltage, and 2-wire dimmable fluorescent lighting loads. With unparalleled Constant Power dimming technology. When use as a universal dimmer it automatically selects forward-phase or reverse-phase control based on each channel's load when in Auto-Load Detection mode. The system is composed of independent 4 channel dimmers; each channel is rated for up to 480 Watts (4 Amps), with a total module rating of 2000 Watts (16 Amps) when fed from two separate 20 Amp feeds. This unit automatically protects itself from over-current, over voltage, and over temperature for a long and reliable lifespan. Air-gap relays on every channel output allow individual circuits to be serviced without disabling the entire system.
Mounting is easy via 0.125" mounting holes using4-40 screws and wire (optional) via convenient conventional industrial standards locking connectors.
---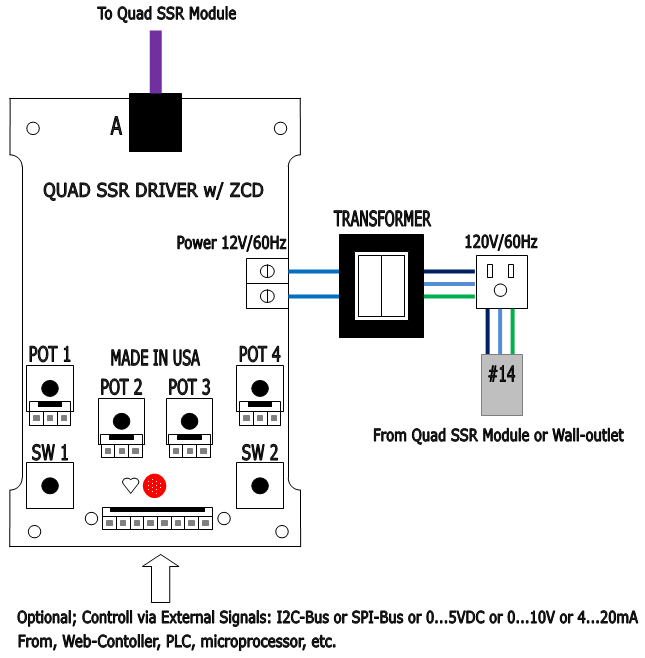 Shown Above Quad Solid State Relay Driver & Control Interface Board Module basic connections illustration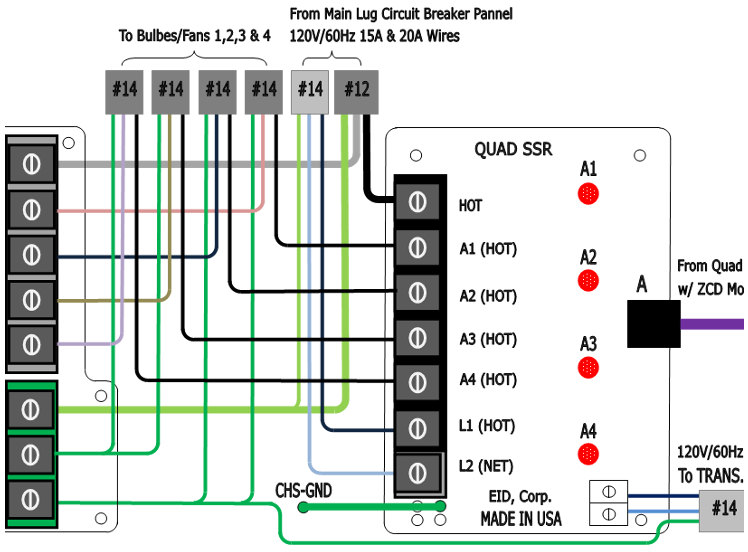 Shown Above Commercial Quad Solid State Relay Power Driver Interface Board Module basic connections illustration and below the quad solid state relay warning plate and Neutral , Hot, Ground and Chassis Ground rails connections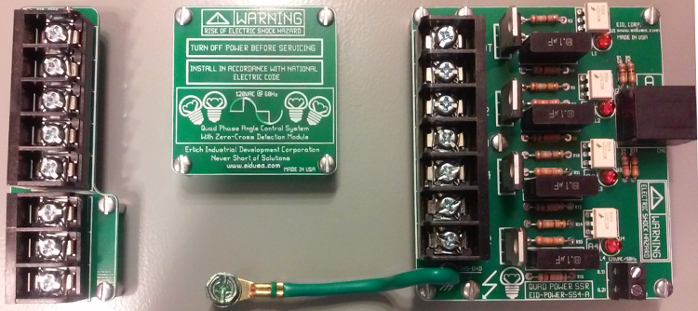 Need more power: for extra current Power Solid state relay (4, 8, 12 & 24 Triac boards), and/or Commercial Ceiling-fan/Lighting Control Panels 4, 8, 12 and 24 Dimming Relays see the following links:

4-Channel Dimming, On, Off Power Solid State Relay (PSSR) module:

8-Channel Dimming, On, Off Power Solid State Relay (PSSR) module:

12-Channel Dimming, On, Off Power Solid State Relay (PSSR) module

24...48...96...
Need more Computing Brian: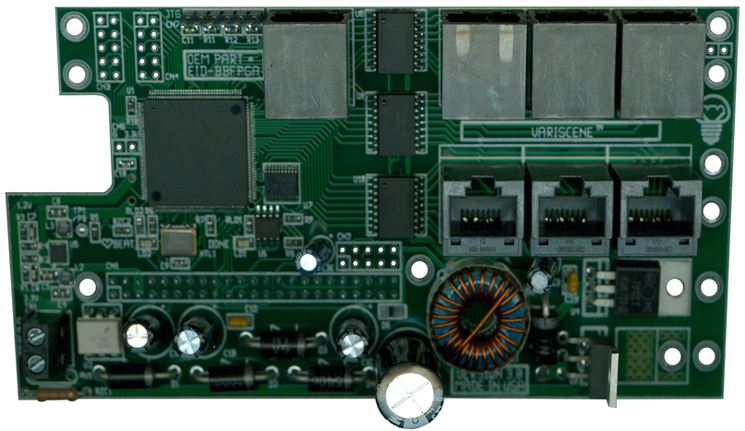 Need to control more channels:
Remote test module:
Yes free with any purchased of Quad Power Solid State Relay unit!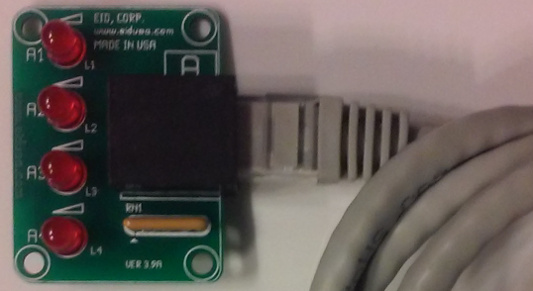 Start building your commercial power control panels 4, 8, 12 and 24 today. Pilot and dimming Power Solid state Relays made easy to assemble. Control by PWM, DMX, RS485, I2C, SPI, 4-20mA, 0-5VDC, 0-10VDC…
---
In-circuit debugger/programmer:
The Quad Solid State Relay Driver/controller module board comes (shipped) pre-loaded with software. Whoever, we can custom the code/software (C C++, Java or Assembler) to fit your OEM needs. It done easily via Microchip's PICkit-2* or PICkit-3* USB type Programmer/Debugger.
Connecting the PICkit3 to the Quad SSR Driver board through standard ICSP interface using 6-pin on board connector (Marked P1).
* The Microchip name and logo. the Microchip, PIC, PICKIt 2, PICKIt 3 are register trademark of Microchip Technology Inc.
---
Standard Features:
● Provides motors with smooth movement and smooth light dimming and On/Off function (1000 levels each!)
0-1000 level of phase control per half cycle for each individual channel.
● Linear Adjustable via POTs
● High efficiency circuitry
● 50Hz/60HZ/400Hz Auto detect
● Conveniently front mounted connections
● Conveniently front mounted LED for both power on and Microcontroller Self Testing (MST) indicators.
● Soft Start
● 0 to 15 Amps of control for each individual channel.
● Missing cycle detection prevents transformer saturation or damage due to power interruptions.
● Each individual channel is optically isolated:
Command Signals Isolated from Heat-sink (optional)

Command Signals Isolated from High Voltages

4000 Volt Isolation
● LED Status Indicator per channel provides visual indication of controller operation
● Provides a stable control loop because RMS load voltage is proportional to command signal and is not affected by line voltage variations
● Compact Size
● Zero Voltage Turn-On (fire-On) module
● Built-In Snubber circuit
● High Surge Capability
● 100% Tested at Rated Current
● 4 channels of dimming for both forward-phase and reverse-phase modes
● Constant Power dimming technology and zero-cross filtering to reduce lamp flickering
● Auto-load detection mode
● Low Cost Multi Function dimmer system
Board Dimensions:
Board width, length, height: TBD
Board Mouthing Dimensions:
All Mounting holes are 0.128" Dia.
Note: Use 4-40 screws and stand-offs to mount the boards.
Caution: Do not mount the board where ambient temperature is outside the range of -10° C (15° F) to 45° (115° F). -20°C to +50°C (-4°F to 122°F).
---