SIGNALER-S10/SLK5 Automotive Signaling Models Interface boards.
The SIGNALER-S10 and the SIGNALER-SLK5 boards combination are designed to perform automotive switch and sensors signaling to LED signal conversion. If used properly, it will eliminate the need for acquiring expensive boards and the use for a huge wire harness, which would otherwise be needed to carry out the same tasks.
The SIGNALER-S10/SLK5 are easy to install, setup, and operate. If you want to complete professional automotive signaling related functions, the SIGNALER-S10/SLK5 offers the features you need. Mounted easily via 0.125" mounting holes.
Simply connect the boards to a 12V battery, connect the COMM. (Communication) wire between the boards and the SIGNALER-SLK will monitor the automotive switches and transmit this information to the SIGNALER-LS10 board which lights the corresponding LEDs
Note: EID Corp. wants you to GO GREEN; since the SIGNALER system reduces the number of wires from the front to the rear of the automotive, it reduces weight, consequently reducing both energy and operational costs. It is ideal for those who are developing energy saving cars such as hybrid or electric vehicles.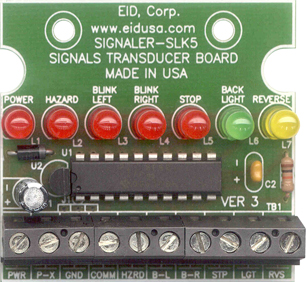 Master transmitter shown above, full configuration.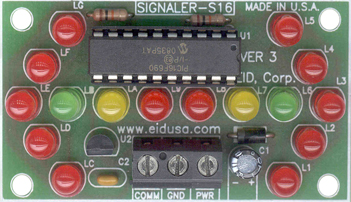 Slave receiver shown above, full configuration.
Please drop us a line at HVAC@eidusa.com and let us know where you use this unique board. Or, of course, if you have any adjustments deemed important--one of our OEM engineers will be happy to help you achieve them.
---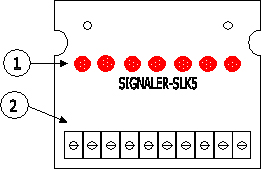 Figure A. Switches input board shown above
1. LED's signal monitoring (left to right) Power, Hazard, Blink-Left, Blink-Right, Stop, Back-Light, Reverse.
2. Inputs switches and communication output/input via terminal blocks.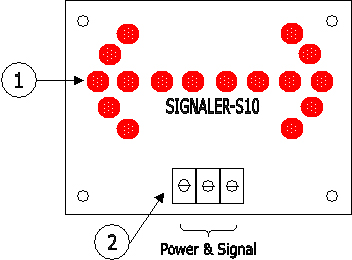 Figure B. LED signals output board shown above
1. LED's signal combination display.
2. Inputs for power and communication input/output via terminal blocks.
---
SIGNALER-S10 Features
Can be customized to accommodate your input to output need.

Designed to operate from 12VDC car battery for car rear signaling applications.
Specifications
PCB material FR4 (UL approved)

Max power consumption 0.5W

Storage temperature 40 - 70 [F]

Operating temperature 32 - 140 [F] (0 to 60°C) @ 95% RH

Low board DC voltage 9 [V]

Power source 12VDC +/-20%

Light indicator LED's Red

Mounting Two/Four 0.125" holes

Manufactured 100% in USA