Custom Adjustable Power supply / Power regulator board.
The EID78ADJ board is designed to convert 26-30 Volts AC (half wave) or DC input voltage to stabilize custom adjustable DC voltage output (1.25 to 24V DC). If used properly, it will eliminate the need for expensive industrial power supplies, which would otherwise be needed to carry out the same task.
EID78ADJ is easy to install, setup and operate. If you want to professionally power your HVAC products, EID78ADJ offers the features you need. Mounted easily via one 0.125" mounting holes. or directly solder to your board through 3 pins.
The board is designed to attenuate, filter and regulate 26-30V DC or AC to stable custom V DC.
Will replace any MC78XX/LM78XX/SG78XX regulator.
For our line of transformers click Here
Pins left to right:
1) Input,
2) Ground (common)
3) Output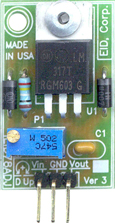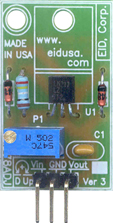 Shown above with adjustable regulate output 1.25V to 24V DC. On the right board configured for extra low current, on left for high current.
Drop-in replacement for MC78XX, LM78XX and SG78XX voltage regulators
Linear regulators for 90% and up efficiency
Integrated capacitors no external components needed
See also our fixed output version
---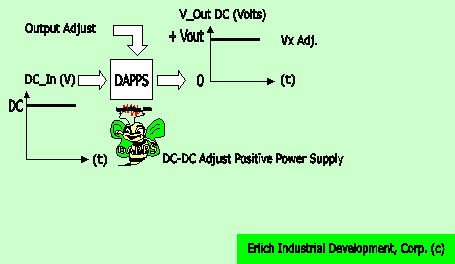 ---
EID78XYZ Features
Up to 250mA output.

+/-3% voltage stability.

Generally powered from any power source, AC or DC, that is larger then 2 volts of the desired output voltage.

Also, designed to operate from two or three 12VDC car batteries
Specifications
Input voltage 26-30V AC or DC

Relative Output voltage stability +/-3%

Output current Up to 250mA, higher output current models are available.

PCB material FR4

Output Voltage Custom from 1.25V to 24V DC set via multi-turn trimmer

Max power consumption 7W

Storage temperature 40 - 70 [F]

Operating temperature 32 - 140 [F] (0 to 60°C) @ 95% RH

Low board DC voltage 36[V] max

Size 1.25" long by 0.75" wide, 0.125" mounting hole (for 4-40 screw)

Manufactured 100% in USA