METER – 35X. EID's instrumentation digital snap-in 3.5 digits panel voltmeter for all your electro-chemistry needs:
The METER-35X 3.5 digits - digital panel meter (DPM) is a universal LCD that can be used as a voltmeter, pH meter, thermometer or any other measuring device. If used properly, it will eliminate the need for expensive displays or voltmeters, otherwise needed to carry out the same tasks.
The circuit features high precision and high input impedance. Powered via 9V Battery. The input voltage is typically up to 200mV floating voltage. On board voltage divider allow the user to customized it to accommodate 0-2V full scale.
Simply use one of our converter boards to convert the display into: ORP meter, pH meter, Flow meter, voltmeter, conductivity meter and more. The uses are endless.
The METER-35X is easy to install, setup and operate. If you want to do professional voltage measurement related functions, and display them on a 3.5 digits display, the METER-35X offers the features you need.
Mounted easily. Simply snap it into square holes. No external screws are required!
Note:
Use the XBP pin to drive icons and wire all non-used icon to BP (Back panel) pins.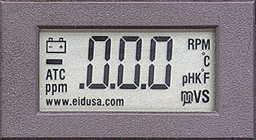 Digital panel meter (3.5 digits)
Use our Interface board and display to construct your own meter:
pH-meter (pH, ppm)
ORP-meter (uV, mV, V, ppm)
ISE-meter (uV, mV, V, ppm)
Conductivity meter (uS, mS, S, ppm)
TDS-meter (ppm)
Humidity meter (%RH)
Temperature meter (F, C, K)
Tachometer (RPM)
Flow-meter (RPM)
Voltmeter (uV, mV, V, ppm)
Battery monitoring meter (Batt icon)
Automatic temperature compensation (ATC)
Dissolve Oxygen (DO) -meter
Ohm meter
High impedance voltmeter (uV, mV, V)
Light-meter
Location indicator meter (1-99)
METER – 35X Features
Can be customized to accommodate your input voltage requirement.

External Reference voltage adjustment via trimmer.

0-2V (option) or 0-200mV (standard) input via high resolution on board analog to digital converter.

3 1/2 digit, 9.5 mm character height display

200mV full-scale input sensitivity

10 pA input current typical

Automatic polarity

Easy panel mounting

14 analytical icons on display

Easy to use decimal point and icons

9V or 5V operation

Reflective mode
Specifications, Electrical Characteristics - Ta=+25°C
Input voltage (standard) +/- 200mV. Additional voltage ranges configurations are available.

Input Impedance >1M Ohms

Decimal point Configured (on board selection)

PCB material FR4 (UL approved

Supply Voltage (VDD=9V) Min 7V Typ. 9V Max 10V

Supply Voltage (VDD=5V) Min 4.5V Typ. 5V Max 6V

Supply Current (IDD) for 9V Typ. 100uA Max 500uA

Supply Current (IDD) for 5V Typ. 2mA Max 3mA

Leakage Input Current TYp. 1pA Max 10pA

Reference Voltage
(Factory Adjusted) 100mV For 9 volts option only

Full Scale Max 200mV

Zero Input Reading Typ. +/-0.000 Count

Accuracy for 9V
(Input at 199.5 mV) Typ. +/-2 Count Max +/-4 Count

Accuracy for 5V
(Input at 199.5 mV) Typ. +/-2 Count +/-4 Count

Operating temperature 0 - 50 [°C], 32 - 122 [°F]

Storage temperature -40°C to +70°C

Operating relative humidity 90% Max

Linearity Typ. +/-1
(Max deviation from best straight line)

Resolution Typ. 100uV

Sampling rate Typ. 3 Read/Sec Max 4 Read/Sec

CMRR Typ. 70dB

Temp coefficient Typ. 100ppm/°C Max 150ppm/°C

Standard Annunciators (Icons) m, u, V, S/cm, ALERT, BATT, K, °C, °F, RPM, pH, ATC, %RH & EID Corp
Drawings