Terminal blocks
All terminal blocks (TB) are in stock. Choose from our biggest variety of terminal blocks and connectors. Good news for the hundreds who call about the "Molex Industrial group" line of products. Yes, we carry the flagship terminal blocks by MOLEX TM Industrial Group (was Beau Inc).
In-house added value services:
24 hour turn around. Buy it today get it tomorrow.

Custom PCB boards. Just send us your schematics and let our team of engineers build it.

Assembly capabilities.
Minimum order:
$240.
How to order terminal blocks:
E-mail us at sales@eidusa.com with EID's terminal block part number (p#), or with Molex part number and we'll promptly provide you with quote. Or contact our sales or customer service department at 704-366-4357. Please state P# and quantities on the e-mail subject line.
---
"Classic" - 5.08mm ( .20") pitch spacing - modular - low profile - terminal blocks:
Molex Part No. 39880030X

EID Part No. EID-39880030X

X = number of positions (circuits) i.e. 2, 3, 4...
Thousands in stock of each part number. Choose from 2, 3 and 4 positions terminal blocks. (color black).
Don't let your distributor tell you 6 to 8 weeks, just give us a call or drop us a line at sales@eidusa.com, and we will ship them directly to you. And if this is not enough, our pricing is better than ever, as shown below (picture) starting at $0.24 (1-10 pc.) and $0.15 (10-99pc.) Compare with $0.39 and up (999-1Kpc.) from other distributors.
If you are you looking for an A+ stocking distributor, with best pricing, best service, top quality terminal blocks form the giant Molex-- call us, 704-366-HELP (4357).
---
Pictures: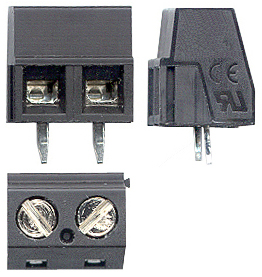 2 Position (circuits) picture. Shown above (front side and top view)
---
Drawings: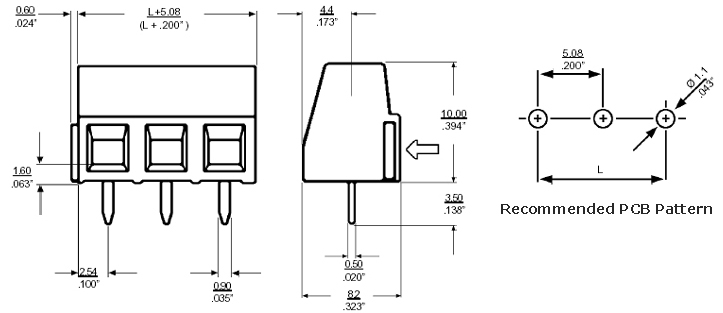 EID-398800303 drawings (Shown above 3 positions)
---
Features and Benefits:
2, 3 and 4 circuits in stock.

Low profile

High reliability rising clamp

Modularity

Captive screw

Manufacture to VDE standards

Available in blocks of 2, 3 and 4 positions, which allow any configuration to be assembled with minimum inventory.
---
Specifications:
Electrical:

Voltage up to 250V

Maximum current: 13.5Amp

Insulation resistance: >5,000 Mega-ohms

Mechanical:

Rec. Tightening Torque: 7in.lbs, .79Nm

Operating Temperature: 110C

Wire Strip Length: 0.2"/0.24" or 5/6mm

Physical:

Housing: polyamide 94V-0, Black

Screws: 3mm Copper Alloy

Screw platting: Nickel

Cage Clamp: Copper alloy

Cage Clamp plating: Copper Nickel

Pins: Copper Alloy

Pin Plating: Tin

Wire Range: 14 to 30 AWG, 1.5 to 0.2mm^2
---
Reference information:
UL: File E 167473
CSA: File LR 102896
VDE: Reg. N. 5659 UG