Plastic Sloping Consoles (EID-1599 T Series) Flame Retardant ABS Plastic Version
| | |
| --- | --- |
| | |
| | |
Features and benefits:
Short Slope Console

Rear of units contain one or two (depending on console size), flat removable panels for easy modifications.

Molded from flame retardant ABS plastic (material carries a UL flammability rating of 94V-0.
Part Number

Color

1-99

100-1K

Battery Door

Units

Width

Rear of
Enclosure Height
(Includes Lid)

Front of
Enclosure Height (Includes Lid)

EID-1599ETSBK
EID-1599ETSGY

Black
Grey

No

Inches

3.35

6.70

1.33

mm

85

170

34

EID-1599HTSBK
EID-1599HTSGY

Black
Grey

No

Inches

4.33

8.66

1.73

mm

110

220

44

EID-1599KTSBK
EID-1599KTSGY

Black
Grey

Inches

mm
Flame retardant ABS plastic versions include
integral threaded brass inserts and machine
screws providing extra strength for repeated
assembly and disassembly of lid.
Rear Panel Information:
Rear view with lid and one panel removed (for easy machining)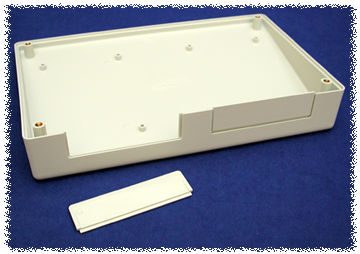 Battery Door Information:
Part numbers above ending in "BAT" include a battery door (shown below)
Accessories:
Screws:
Accessory screws for mounting P.C. boards into standoffs (#4 x 1/4" pan head) P/N EID-1593ATS50 (qty. 50), P/N EID-1593ATS100 (qty. 100).

Replacement machine screw, used in flame retardant ABS series (i.e. with brass inserts). M3 - 0.5 x 10 mm EID-1591MS100 - Package of 100.
Designed for our battery door enclosure (i.e. part numbers ending in BAT).

Kits include all the parts required to install the battery or batteries.

Kit includes the battery holder, wires, divider and foam anti-rattle pad.
| | | |
| --- | --- | --- |
| | | Fits Battery Door Enclosure Size: |
| | 1 AA Cell | EID-1599B & EID-1599E series |
| | 2 AA Cells | EID-1599B & EID-1599E series |
| | 1 AAA Cell | EID-1599B & EID-1599E series |
| | 2 AAA Cells | EID-1599B & EID-1599E series |
| | 3 AAA Cells | EID-1599E size only |
| | 4 AAA Cells | EID-1599E size only |
| | 1 - 9V Cell | EID-1599B & EID-1599E series |
Notes: