Plastic Instrument Enclosures (EID-1598 "S" Series) Polystyrene Version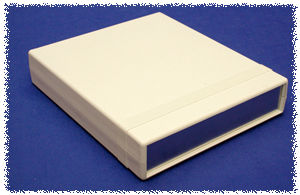 Features and benefits:
Modern low profile designed instrument enclosure.

Two sets of vertical 1.5 mm (0.062") P.C. board guides are molded into case halves, front and rear.

Available in economical matte textured gray polystyrene plastic top & bottom halves.

Easy access to interior via shell type construction.

Integral horizontal P.C. card mounts on Eurocard centers.
Part Number

Color

1-9

10-49

50-99

100-1K

Units

Length

Width

Enclosure Height (Clam Shell)

EID-1598BSGY

Grey

Inches

5.28

5.31

1.96

mm

134

135

50

EID-1598ASGY

Grey

Inches

6.18

3.70

1.42

mm

157

94

36

EID-1598ESGY

Grey

Inches

6.30

6.30

3.38

mm

160

160

86

EID-1598BBSGY

Grey

Inches

7.05

6.06

1.42

mm

179

154

36

EID-1598CSGY

Grey

Inches

7.09

6.10

2.04

mm

180

155

52

EID-1598DSGY

Grey

Inches

7.09

8.11

2.52

mm

180

206

64

EID-1598FSGY

Grey

Inches

9.84

6.30

1.58

mm

250

160

40

EID-1598GSGY

Grey

Inches

9.84

6.30

3.00

mm

250

160

76

EID-1598HSGY

Grey

Inches

11.02

7.87

1.58

mm

280

200

40

EID-1598JSGY

Grey

Inches

11.02

7.87

3.00

mm

280

200

76

With black ABS plastic end panels
Part Number

Color

1-9

10-49

50-99

100-1K

Units

Length

Width

Enclosure Height (Clam Shell)

EID-1598BSGYPBK

Grey

Inches

5.28

5.31

1.96

mm

134

135

50

EID-1598ASGYPBK

Grey

Inches

6.18

3.70

1.42

mm

157

94

36

EID-1598ESGYPBK

Grey

Inches

6.30

6.30

3.38

mm

160

160

86

EID-1598BBSGYPBK

Grey

Inches

7.05

6.06

1.42

mm

179

154

36

EID-1598CSGYPBK

Grey

Inches

7.09

6.10

2.04

mm

180

155

52

EID-1598DSGYPBK

Grey

Inches

7.09

8.11

2.52

mm

180

206

64

EID-1598FSGYPBK

Grey

Inches

9.84

6.30

1.58

mm

250

160

40

EID-1598GSGYPBK

Grey

Inches

9.84

6.30

3.00

mm

250

160

76

EID-1598HSGYPBK

Grey

Inches

11.02

7.87

1.58

mm

280

200

40

EID-1598JSGYPBK

Grey

Inches

11.02

7.87

3.00
Notes:
All Dimensions in inches & mm

Also available in EMI/RFI shielded version - download catalog pages for more data