General Purpose Plastic Enclosures (EID-1591 Series) Flame Retardant ABS Plastic Version
Features and benefits:
Ideally suited for mounting printed circuit boards.

Integral card guides accept 1.5 mm (0.062") P.C. cards.

Lap joint construction provides protection against access of dust and splashing water.

Molded from flame retardant ABS plastic (material carries a UL flammability rating of 94V-0).

Lid is secured with M3 x 10 mm Philips machine screws, threaded into integral brass bushings. Perfect for applications with repetitive assembly and disassembly are required.
Part Number

Color

1-9

10-49

50-99

99-1K

Units

Length

Width

Enclosure Depth (Less Lid)

EID-1591MBG
EID-1591MBK
EID-1591MBU
EID-1591MGY

Beige
Black
Blue
Grey

Inches

3.3

2.2

0.8

mm

85

56

21

EID-1591LBG
EID-1591LBK
EID-1591LBU
EID-1591LGY

Beige
Black
Blue
Grey

Inches

3.3

2.2

1.4

mm

85

56

35

EID-1591ABG
EID-1591ABK
EID-1591ABU
EID-1591AGY

Beige
Black
Blue
Grey

Inches

3.9

2.0

0.8

mm

100

50

21

EID-1591SBG
EID-1591SBK
EID-1591SBU
EID-1591SGY

Beige
Black
Blue
Grey

Inches

4.3

3.2

1.6

mm

110

82

40

EID-1591BBG
EID-1591BBK
EID-1591BBU
EID-1591BGY

Beige
Black
Blue
Grey

Inches

4.4

2.4

1.1

mm

112

62

27

EID-1591CBG
EID-1591CBK
EID-1591CBU
EID-1591CGY

Beige
Black
Blue
Grey

Inches

4.7

2.6

1.4

mm

120

65

36

EID-1591TBG
EID-1591TBK
EID-1591TBU
EID-1591TGY

Beige
Black
Blue
Grey

Inches

4.7

3.2

2.2

mm

120

80

55

EID-1591UBG
EID-1591UBK
EID-1591UBU
EID-1591UGY

Beige
Black
Blue
Grey

Inches

4.7

4.7

2.2

mm

120

120

55

EID-1591VBG
EID-1591VBK
EID-1591VBU
EID-1591VGY

Beige
Black
Blue
Grey

Inches

4.7

4.7

3.5

mm

120

120

90

EID-1591GBG
EID-1591GBK
EID-1591GBU
EID-1591GGY

Beige
Black
Blue
Grey

Inches

4.8

3.7

1.2

mm

121

94

30

EID-1591DBG
EID-1591DBK
EID-1591DBU
EID-1591DGY

Beige
Black
Blue
Grey

Inches

5.9

3.2

1.8

mm

150

80

46

EID-1591HBG
EID-1591HBK
EID-1591HBU
EID-1591HGY

Beige
Black
Blue
Grey

Inches

6.5

2.8

1.0

mm

165

71

25

EID-1591EBG
EID-1591EBK
EID-1591EBU
EID-1591EGY

Beige
Black
Blue
Grey

Inches

7.5

4.3

2.2

mm

191

110

57
Notes:
All Dimensions in inches & mm

Add 0.16" (4 mm) to enclosure depth for lid

Flame Retardant ABS Plastic in Beige, Black, Blue or Grey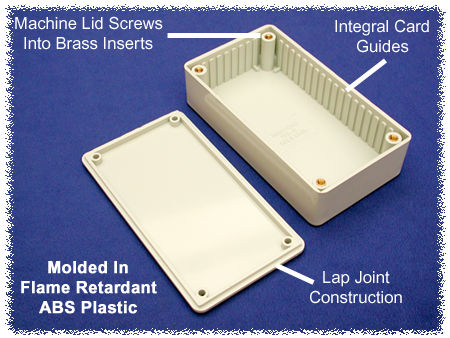 Accessories:
P.C. Board Card Adaptors:
Part Number EID-1591Z6 - Package of 6
Part Number EID-1591Z50 - Package of 50
Part Number EID-1591Z100 - Package of 100

Replacement Screws:
Part Number EID-1591MS100 - package of 100. M3 - 0.5 X 10mm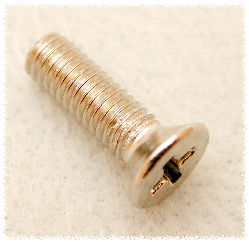 Belt or Pocket Clip:
Molded from tough nylon.

Includes 2 nylon screws (insulated to avoid internal interference).

Mounting template included.

Black - Part Number 1599CLIP
Grey (shown) - Part Number 1599CLIPGY
Clear Lids:
Clear Polycarbonate (flame retardant material):
Part Number EID-1591LC - use with EID-1591L series
Part Number EID-1591AC - use with EID-1591A series
Part Number EID-1591BC - use with EID-1591B series
Part Number EID-1591CC - use with EID-1591C series
Part Number EID-1591DC - use with EID-1591D series
Part Number EID-1591EC - use with EID-1591E series
Part Number EID-1591GC - use with EID-1591G series
Part Number EID-1591HC - use with EID-1591H series
Part Number EID-1591SC - use with EID-1591S series
Part Number EID-1591TC - use with EID-1591T series
Part Number EID-1591UC - use with EID-1591U series
Part Number EID-1591VC - use with EID-1591V series