Watertight Thick Wall Enclosures (EID-1590ZGRP Series) Glass Reinforced Polyester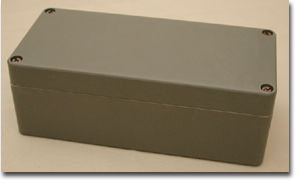 Features and benefits:
Molded from a gray, glass reinforced polyester.

Includes gasket lid with two piece "tongue & groove" construction.

Heavy duty, thick wall design.

Designed to meet IP65.

Lid contains self captivated screws.

Easy wall mounting via "through box - blind hole" construction, outside of the gasket protection.

Mounting shelf & nuts molded in (see photo below).
Part Number

1-9

10-49

50-99

100-1K

Units

Length

Width

Enclosure Depth

EID-1590ZGRP081

Inches

3.17

2.94

1.58

mm

80

75

40

EID-1590ZGRP082

Inches

mm

EID-1590ZGRP121

Inches

mm

EID-1590ZGRP083

Inches

mm

EID-1590ZGRP161

Inches

mm

EID-1590ZGRP123

Inches

mm

EID-1590ZGRP162

Inches

10.24

6.30

2.76

mm

260

160

70
Notes: