VARISCENETM OEM Line of products--
Industrial TCP/IP Linux ARM base controllers. Control via the web...Both AC and DC applications.
Build-in web server on any module, control from any PC, tablet, smart-phone...
Don't overpay for your controllers HMI, PLC and drivers. Linux inside!
VARISCENE module hardware features: Texas Instruments Cortex-A8 1GHz ARM Processor, 4GB flash storage & 512MB DDR3 RAM, Xilinx's Spartan 6 LX9 Field Programmable Gate Array (FPGA) @ 50MHZ, 100MHZ or 200MHZ.
The VARISCENE module connectivity includes but not limited; Ethernet (TCP/IP 10/100), USB, HDMI, SPI Bus @ 10MBS, I2C bus... optional multi Relay drivers, optional multi channels AC drivers 120VAC @ 50HZ, 60HZ or 400HZ... optional multi channels DC drivers 12VDC, 24VDC or 28VDC, PWM, PID, ADC, DAC, 4-20mA, +/-10V, I/Os and more.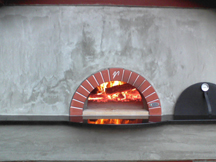 OEM, hot out of the oven--Yes, we can build one for you.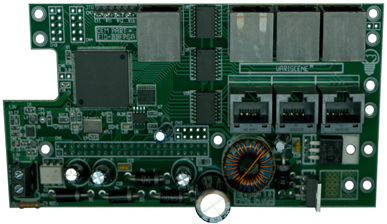 Shown above VARISCENETM 24 Outputs and capacitive touch LCD motor drivers cape module
Shown above VARISCENETM 8 Optically-isolated Inputs cape type daughter-board module (top view)

Shown above VARISCENETM 16 outputs cape type daughter-board module (top view)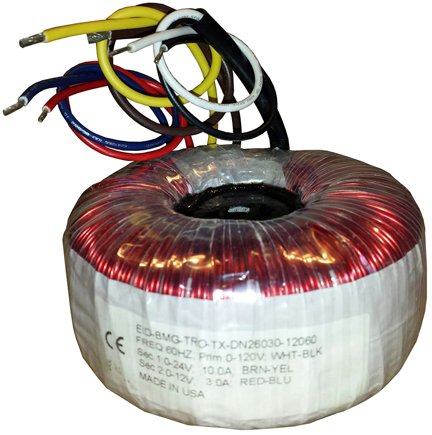 Shown above VARISCENETM custom high current power transformer module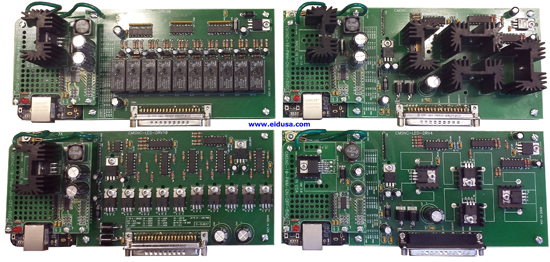 Shown above VARISCENETM for CMSNCTM TCP/IP Fast Ethernet 24VDC and 28VDC control module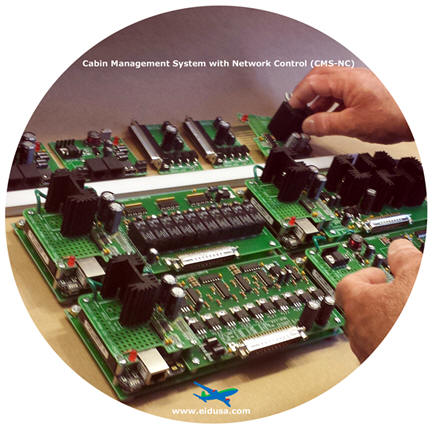 Inside of an aircraft, train or ship cabin, the Cabin Management System with Network Control (CMS-NC TM) is used to control lights, doors, window shades etc., via the on board Local Area Network (LAN). The LAN is primarily a configurable router or Wireless Access Point (WAP), but can include hard-wired RJ45 ports.
Simply connect each unit to the 28VDC Power-Rail (PR), connect 24VDC LED lights and/or Red-Green-Blue-White (RGBW) LED lights, set your web browser to Variscene and you will have full control.
Deploy many CMS-NC units--utilizing front mounted D-Sub37 male-type and RG45 Ethernet connectors.
There is no need for users to download an application or any software! The CMS-NC supports multi users via the customers own browser.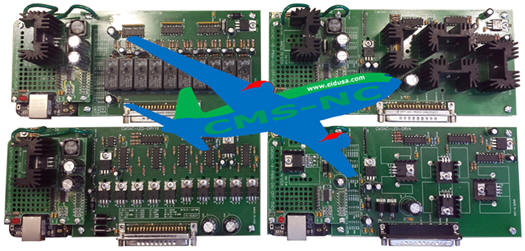 Configuration of the system units set by certified technicians via password, utilizing table driven database entries for unit location, unique ID, function and more. In addition, database configurable location names for units etc., can be defined and modified at any point in time via technician mode

VariScene TM - VIP Software
VariScene VIP Software package comes preinstalled on all CMS-NC line of products.
VariScene TM - Touchscreen-Displays
Variscene Touchscreen Displays are available in a variety of sizes and shapes
For ease of use and access, and in addition to passenger's Portable Electronic Devices (PEDs) such as tablet, cell-phone, laptop; VariScene capacitive type touch-screen displays can be deployed and mounted in the aircraft, train or ship's cabin.
VariScene TM - LED-Light-Fixtures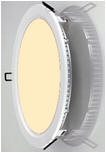 VariScene LED Light Fixtures are dimmable or on/off
VariScene LED Light Fixtures can be build and custom with LED white warm light or RGB LED or RGB-WW LED
Entry lights
Down Wash Light
Up Wash Light
Indirect Ceiling Wash Lights
Sidewall Wash Lights
Ceiling Light, Overhead Light
Art work Light
TOE Kick Light
Reading Light
Table Light
Night Light
Galley Light
Accent Lights
Mode/Effect Light
Below deck light

To see how VARISCENE technology can fit in you application call (704) 366-HELP (4357)
*** www.eidusa.com, www.variscene.com, www.veriscene.com, VariScene TM, CMS-NC TM are registers domain-names and trademark of Erlich Industrial Development, Corp.
---